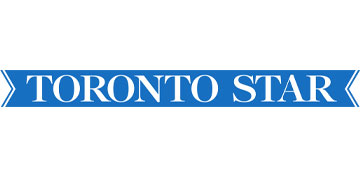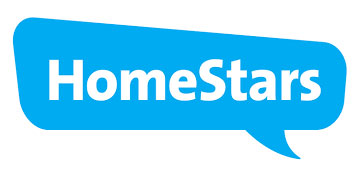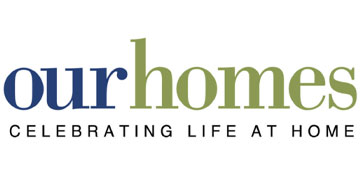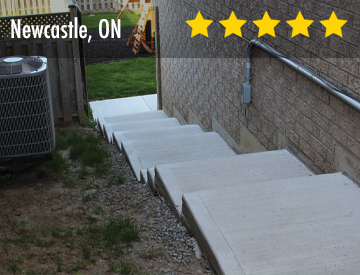 My husband and I are extremely happy and excited about the work that was done. The gentlemen that did the work were very professional and down to earth, very responsible and respectful. We would recommend North American Concrete to anyone. It was a pleasure to have them. They even made up a rock garden for us. Thank you, thank you.
Fionna Thomson, Newcastle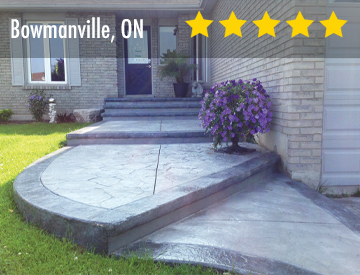 We had our front porch work completed May 31, 2017. The work completed was in a timely fashion and surpassed our expectations. In 2019 we had some warranty issues which were quickly remedied. I found them to be 2nd to none for their customer relationship skills. What really impressed me, was how they stood behind their workmanship, which was evident in the way they handled my warranty concerns.
Brian A, Bowmanville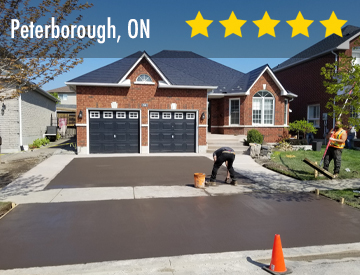 If you are looking to get any concrete work done I would 100% suggest you contact North American Concrete. Kyle kept us informed of each step along the way, even sending text updates and pictures. The craftsmanship and final product was exactly as explained and what we were expecting. The pricing for the job was competitive and nothing extra was added on. I cannot say enough about the service.
Tim P, Peterborough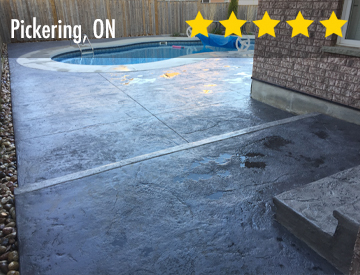 The work was actually done in June 2016, but I wanted to let it settle to see if it cracked. I'm very pleased with the result a year and a half later. The entire job was about 550 square feet, and to this day, it looks consistent, and without a crack give them a 10 out of 10. We are thinking of a bigger job in 2018, and, as long as they're price remains competitive, they'll get the work.
John, Pickering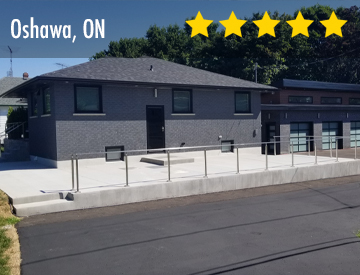 Prompt, courteous, excellent work, cleaned up well after themselves. Completely satisfied, I would definitely use North American Concrete again and refer others. Kyle was very accommodating and helpful.
My neighbours commented on quality of work.
Margaret, Oshawa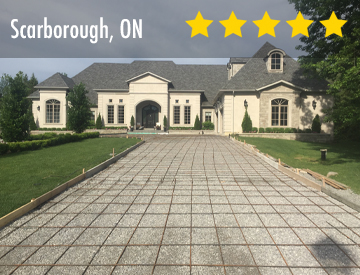 Great people to work with! Many jobs successfully done.
Dave Johnson, Scarborough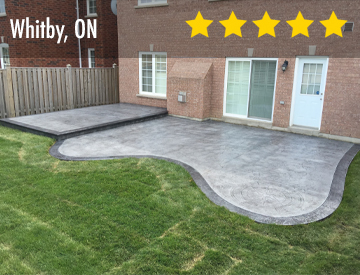 Amazing work. I am very happy with My new LARGE patio. Kyle and his crew were very respectful and very pleasant to work with . Kyle worked with my budget and I got exactly what I wanted . I would recommend North American Concrete to all my friends. I couldn't be more happy with the design and work done. Great group of guys!
Joy, Whitby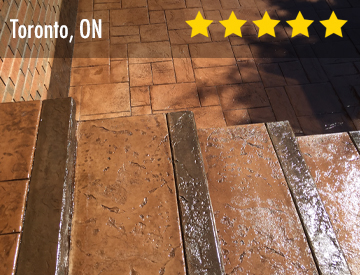 I tried to add before and after photos but I don't think HomeStars' website likes Apple files. I'm really sorry because the difference is amazing.
Gail, Toronto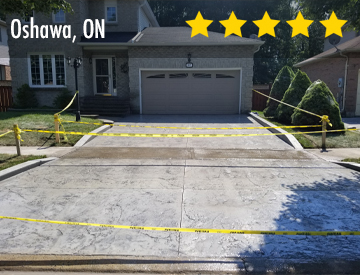 You may not be able to tell from the pictures but I got my driveway done and it looks spectacular. Kyle the owner is forthright he is accurate with timeline no extra costs and everything went perfect except for 1 day lost due to rain.
A+++ Service
Christina P, Oshawa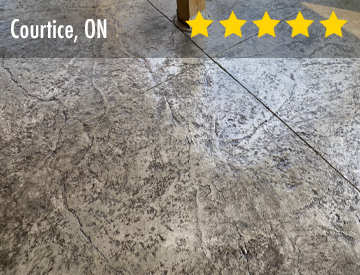 Kyle takes the time to ensure you get what you want and are happy with the end product. I would not hesitate to recommend him to anyone thinking of investing in stamped concrete!
Theresa M, Courtice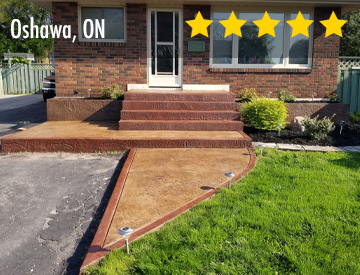 I met Kyle online had 4 quotes Kyle was not the highest or the lowest but I'm glad we picked Kyle. Kyle and Staff were friendly attentive and job was completed fast! Any problems or concerns were quickly resolved and job turned out fantastic.
Reece H, Oshawa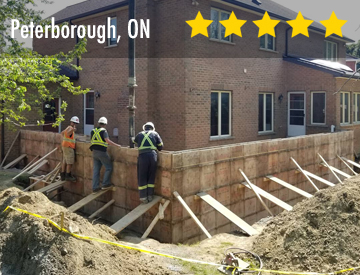 A hard working bunch, always respectful and walked us through any concerns. When we decide to do our backyard we will have them back again. Not the cheapest but definitely the best in Peterborough.
Ashley R, Peterborough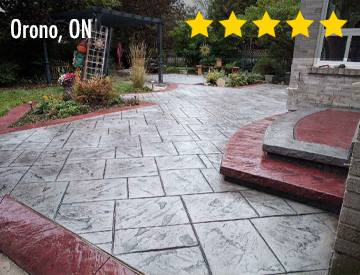 I waited until this year to write a review to ensure that nothing had moved or racked after winter. Spring is here and concrete is looking great! My wife and I felt comfortable working with them, and the job is A+.
Regards,
Shawn, Orono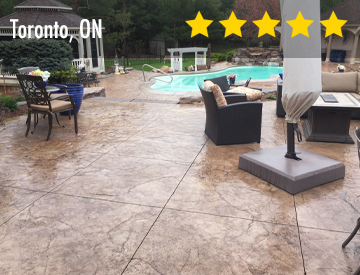 The stamped concrete job turned our backyard into a oasis, it feels like we are on a resort on vacation when we are enjoying our backyard. I would strongly recommend this company for concrete work.
Randy, Toronto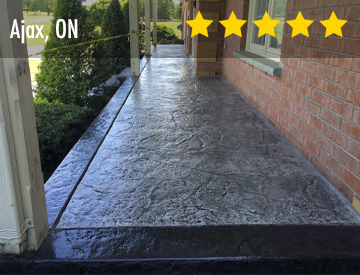 We absolutely love the way the floor turned out, and the colour and pattern is perfect for our small vestibule. Kyle and Danny completed the job on time and on budget. They also did extra things that were not included in our quote. I would strongly recommend Kyle to anyone looking for: quality workmanship, unctuality, staying on budget, and working hard to please his customers.
Keith & Shirley, Ajax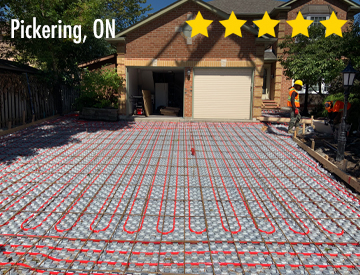 Kyle and his crew are good hard working people. North American Concrete completes excellent work as well.
Roy E, Pickering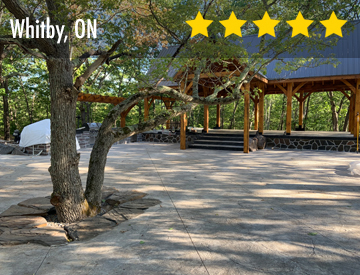 Extremely gorgeous job! The price is well worth the peace of mind and professionalism that comes with it!
Chloe M, Whitby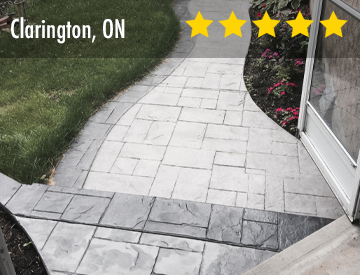 Just had some concrete done by these guys, and I am very happy. They were all very polite, fast and efficient. Any issues I had were quickly addressed and taken care of. The president Kyle is very polite and professional. If you are looking for concrete work I highly recommend these guys.
Ryan H, Clarington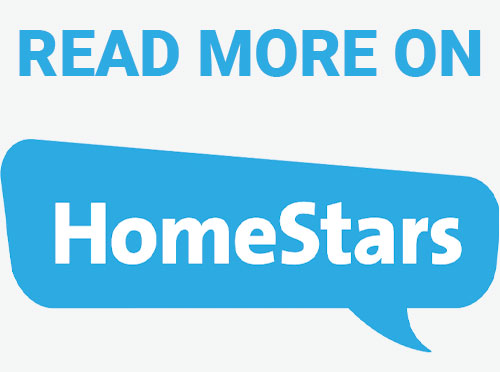 Need concrete work? We are available
We are ready to build your dream tell us more about your project